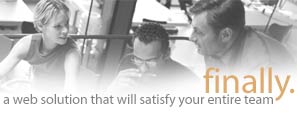 Products

Professional Services

Accessibility/Section 508

Client Quotes

Awards

Purchase

Support

Client List

Developers

Partners




Eric Hodgson Joins Gandalf Development
Gandalf has recently added a new member to our team. Eric Hodgson brings six years of experience helping colleges and universities with Web strategy, content management implementation, site maintenance, training, and staffing. Our article rewriting service makes sure to combine knowledge and writing skills to ensure that their projects look the best.

Digital Survey Awards NHMCCD Fourth Place in Community Colleges
North Harris Montgomery Community College District received fourth place in the top 10 digitally-savvy community colleges for 2005 as named by the Center for Digital Education (Center) and American Association of Community Colleges (AACC).

Capital University Selects Estrada
Capital University was founded by the Lutheran Church in 1830, and has 3,900 undergraduate and graduate students enrolled today. Capital's main campus is located in Bexley, Ohio, a suburb of Columbus.